The Guardian 9th May 2016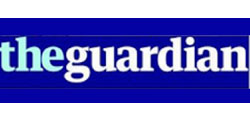 "Carol left me cold, but a new movie has restored my faith in lesbian cinema. ..a road movie that incapsulates the intoxicating pleasures of the transgressing tradition, as well as the endless possibilities and ways of realising the authentic self."
Julie Bindell
Arts Beat LA 11th Dec 2015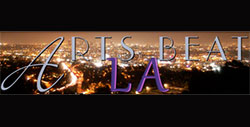 "Writer/director Louise Wadley achieves a light tone and vivacious sense of humor, with some serious themes of identity struggle underpinning the story."
The Art of Monteque 10th Dec 2015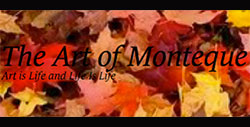 "Australian writer, director Louise Wadley has masterfully created a beautiful story of acceptance and love."
Lesbian.com 3rd Dec 2015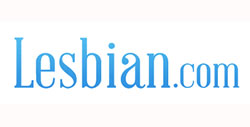 "this indie endeavor, featuring a story we'd be very unlikely to find in mainstream movies, All About E is a fascinating look at the diversity of Australian life."
The Jolt with Larry Flick 2nd Dec 2015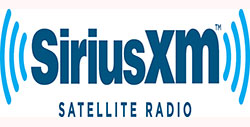 Mandahla Rose chats with Larry Flick about the impact of All About E, following her dreams, and making the jump to the USA.
Metro Magazine 1st Dec 2015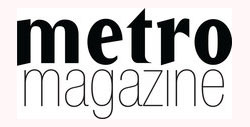 "cinema that straddles genre and queer tropes, subverts audience expectations, and shows how setbacks in funding and distribution can successfully be overcome."
702 ABC Sydney 1st Dec 2015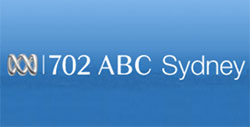 "All About E may be low-budget and very independent, but it has big ideas, a big cast and big locations."
Cinema Australia 30th Nov 2015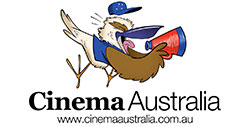 Sound track by Basil Hogios is "hypnotic".
Burwood Scene 30th Nov 2015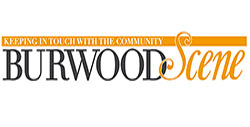 "There's something in this film for everybody irrespective of your cultural background, age or sexuality. It's a feel-good story with universal themes…about identity, truth and belonging,"
Get Out 29th Nov 2015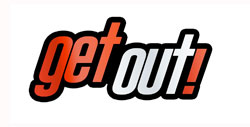 "The film has already gotten amazing reviews from AfterEllen.com, Screen Daily, Edge Media Network, and many others as well as being the winner of the Jury award, Best International Women's Feature North Carolina Gay and Lesbian Film Festival"
ABC Classic FM 28th Nov 2015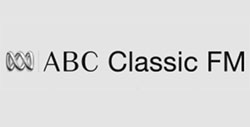 "All About E' composers Basil Hogios and Joseph Tawadros feature amongst John Barry ('Dances with Wolves'), David Hirschfelder ('Australia'), Alfred Newman ('Wuthering Heights') and other musical greats."
All About Movies 25th Nov 2015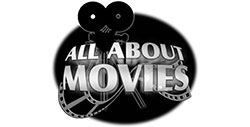 "If you want to see a ground breaking and risk taking film for the 21st century then i would recommend you see 'All About E'."
Blue Mountains Gazette 25th Nov 2015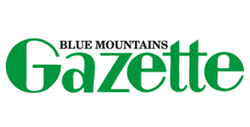 "All About E will appeal to fans of Australian film…and anyone who likes a good story."
"From the moment the narrative begins you can feel the wave of freshness and reality emitted from this positively Australian film."
The Follower Newspaper 24th Nov 2015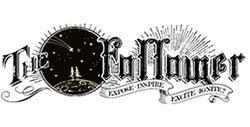 "roles where women are typecast as bratty sisters, dutiful daughters or sexpots are the norm. Women are often cast in supportive roles where they merely help others. 'E' bucks this trend with a girl's only adventure involving plenty laughs, thrills and action."
Weekend Notes 23rd Nov 2015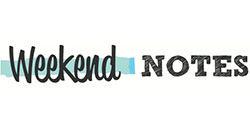 "If you like a movie about gangsters, road trips, searching for a long lost love, being chased by gangsters, traveling across Australia, then you will enjoy this movie."
Curve 23rd Nov 2015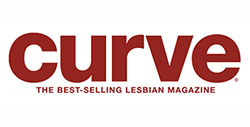 "Wadley's film brings us face to face with our queer immigrant selves in ways that we rarely see on screen."
After Ellen 23rd Nov 2015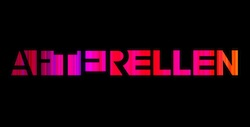 "I really wanted to be able to portray and tell her [E's] story, so that people wouldn't just see her as the bad girl…[but] as someone who had just kind of hit a speed bump in her life and realized that if she didn't actually take the steps that she needed to then she wouldn't become that person that she needed to be."
Curve 22nd Nov 2015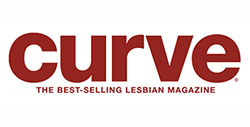 "The energy in All About E is simply magical. All the characters have their own personalities, and the way they're thrown together makes for a vibrant mix"
Gay News Network 18th Nov 2015
"the best thing about it has been the huge variety of people who have related to the film in some way. Whether you are from an Anglo or immigrant background, gay or straight, from the city or the country there is more that connects us than divides us."
The Urban List 13th Nov 2015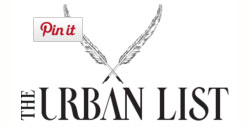 "doesn't so much disregard the conventions of recent middling movie fodder as blast through it with a double-barrelled shotgun"
Curve 8th Nov 2015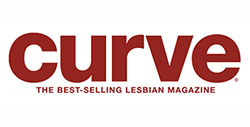 "a sexy, funny and rollicking Aussie crime caper"
Film Ink 22nd Oct 2015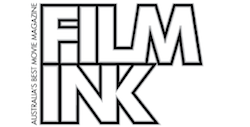 "After selling out screenings on the festival circuit, the local lesbian love story is gearing up for a theatrical run."
Dubbo Daily Liberal 20th Oct 2015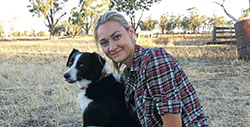 "A DOG named Middy is set to
steal the show at Saturday's premiere
of All About E at the Trundle
Memorial Hall."
LOTL 9th October 2015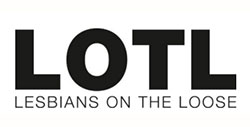 "All About E is the new hugely ambitious must see of the year."
 LOTL 9th October 2015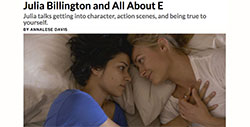 "this is a lesbian love story that is original; it's about finding yourself; and it has a happy ending. I wanted to tell a story about my culture. It was a very personal experience, and I'm very proud of it."
LOTL 13th October 2015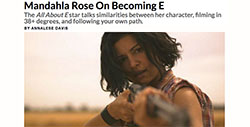 "I wanted so much to tell her story. I could see how she might be seen as the 'bad-girl', but I didn't see that, I saw a girl that was lost and I wanted to be her voice."
DIVA September 2015
"All about E proves Lesbians have a sense of humour!"
LEZTALK 8th September 2015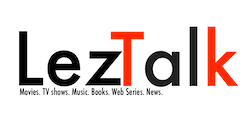 "a wild ride"
PROGRESSIVE PULSE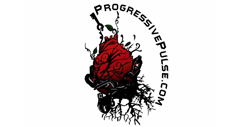 "a funny and adventurous tale"
OUTFEST 11th July 2015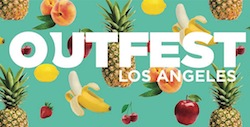 "beautifully shot"
.Mic 7th July 2015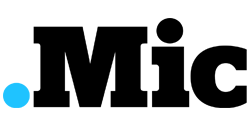 "Of all the stories listed here [.Mic Outfest "standout" films], this is the one that feels most necessary right now."
EDGE MEDIA NETWORK 22nd June 2015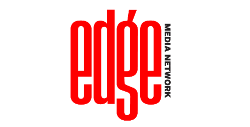 "[a] sexy, funny, rollicking Aussie crime film with strong lesbian characters and a rollercoaster plot that weaves in complex issues about identity, family and sexuality."
EXAMINER.COM 13th June 2015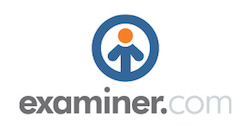 "All About E blows the closet door wide open. ..fun, quite sexy and just one that makes you enjoy the ride.."
AFTER ELLEN 11th June 2015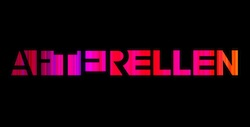 "All about E puts a lesbian spin on the road movie genre."
SAN FRANCISCO CHRONICLE 10th June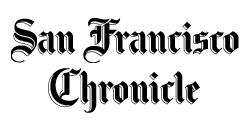 "most feel-good movie of the festival…Featuring laughs, suspense, a deliriously good sex scene, and a rousing finale, "All About E" has something for everyone"
SCREEN DAILY 5th June 2015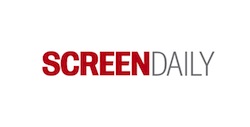 "Terrific performances and beautiful cinematography"
EDGE MEDIA NETWORK 5th June 2015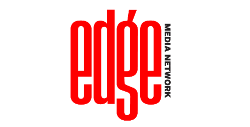 "sexy, funny and rollicking"
SAME SAME March 25th 2015

"A hit at the Sydney Mardi Gras Film Festival, All About E is a lingering treat of a film."
THE IRIS March 23rd 2015

"a triumphantly original, consistently exciting film and a wonderful feature film debut for writer/director Louise Wadley"
FOURTH REEL March 23rd 2015

"Louise Wadley's ALL ABOUT E is a refreshingly good Australian film that offers a thought-provoking insight into rural, migrant and queer communities.
MX March 20th 2015

"The new lesbian road movie All About E has been a surprising runaway hit on the queer film festival circuit this year."
GAY NEWS NETWORK 15th February 201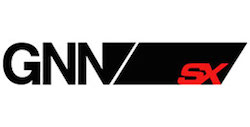 5
"A breath of fresh air for lesbian cinema"
FILM INK 9th February 2015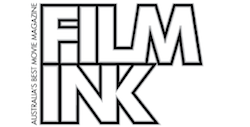 "Writer/director Louise Wadley crafts a wildly different love story…a compelling ride"